Saturday, December 19th, 2009
You know the sort of book I mean: Listography, Wreck this journal, This diary will change your life, This is not a book, How to Make a Journal of Your Life, The Guerilla Art Kit, Your love life in lists, … How to be an explorer of the world: Portable life museum …. Tear Up This Book!: The Sticker, Stencil, Stationery, Games, Crafts, Doodle, and Journal Book for Girls!
Those books that have a fun, wacky but cheap, activity for you to do every day in order to cure your life from the malaise of materialism, work and apathy that has engulfed it.
But, I wonder, how well do the writers of these books live up to the image.
Lisa Nola (Listography)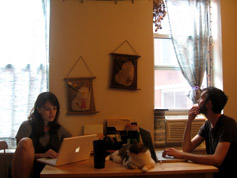 You can tell Lisa's a hipster intellectual sort because… well, just look at her! And him. He's Adam.
Another big giveaway that they're that way inclined is that they have built up a not insubstantial body of work, or 'project', including several books, calendars and, oh yes, the website, around this listography concept of theirs:
Through list making, you can shape an autobiography. Therefore, your listography is a perpetual work in progress, a time capsule you can share, and a map of your life for friends and family.
Or you can never ever look at it again.
I list. I love to list, but if there is any joy in looking at an old list (and, to be fair, there can be) it will be because it was not intended to be looked at so far in the future. You'll surprise yourself by finding that back in 1996 you rated Aswad as your favourite band. But devoting hours of your younger years to making hundreds of lists for the express purpose of looking back at them in years to come is just depressing. Evidence of how stultifying an activity this must be is indicated by the following helpful text from the website:
Try our list topic generator for further inspiration and reflection.
But the idea does however seem to have taken off, to the point where a chain reaction is starting to occur, and a listographer, Nola Russell, has published a book of her own lists. Call me cynical, but I reckon 'Russell' is a bit to similar to 'Lisa' backwards, and 'Nola' is a bit too similar to 'Nola' to completely rule out them being the same person.
So, what have we learned about Lisa and Adam? That when they grow up and their rebellious teenage son screams at them "I don't want to make a list, Dad – I can remember this one thing without having to make another bloody list," the reply comes swift and fast, "'Eh oop son, thy's talking gibberish. It's lists that built this 'owse, and don't you forget it."
Think before you list.
Dan Price (How to make a journal of your life)
It turns out hat Lisa Nola is not the only how-to-release-your-creativity-in-a-lo-fi-way author with a coherent multimedia vision. Other mainstay of the genre, Dan Price, has hismoonlight chronicles website to espouse the same philosophy as his book.
Dan seems a bit more for real than Lisa; again, the photo helps to illustrate this. He also lives in a hole, and lives life a bit like Thoreaux in Walden. I imagine he does spend lots of time creating things out of very little at all, and that he keeps a fascinating journal and finds beauty and intrigue in little things (sample). Thank God he's published a little book teaching us how to see the world just like he does and release our frustrated inner artist.
Keri Smith (Wreck this journal, This is not a book, etc…)
The doyenne of getting adults to scribble in books that cost more than a tenner; she has published six books of this ilk. And, what is more:
Keri Smith is an author/illustrator turned guerilla artist
… according to her website, at least. Her books are more playful and destructive (childish?) than the other authors', at least judging by their cover (and from flicking through). The byword here is 'tearing'. Guerrilla whimsy indeed.
She's published a blog for many years so I've tried to get a picture of whether she lives up to the ideals of her books.
i have actively entered into a period of not thinking.
My guess is that she does, although the rate at which she churns out these DIY artist books would suggest that she is, like some people I've met over the years, more interested in the idea of having an idea, than an idea itself.
At the end of this review, I should own up and say I agree wholeheartedly with the sentiment of these books (that creating your own fun is easy and why doesn't everyone do it?) and I reckon the authors are probably fairly well-meaning. But the trouble is that a) being instructed to do something silly or creative is nowhere near as fun as thinking of it yourself, so b) nearly every page of every copy of these books won't be read, and so c) these books in fact contribute to the problem they're purporting to try and solve – people buying mindless tatt to entertain themselves with.
Still, they're a pretty good get-out as a present for a difficult to buy for friend.